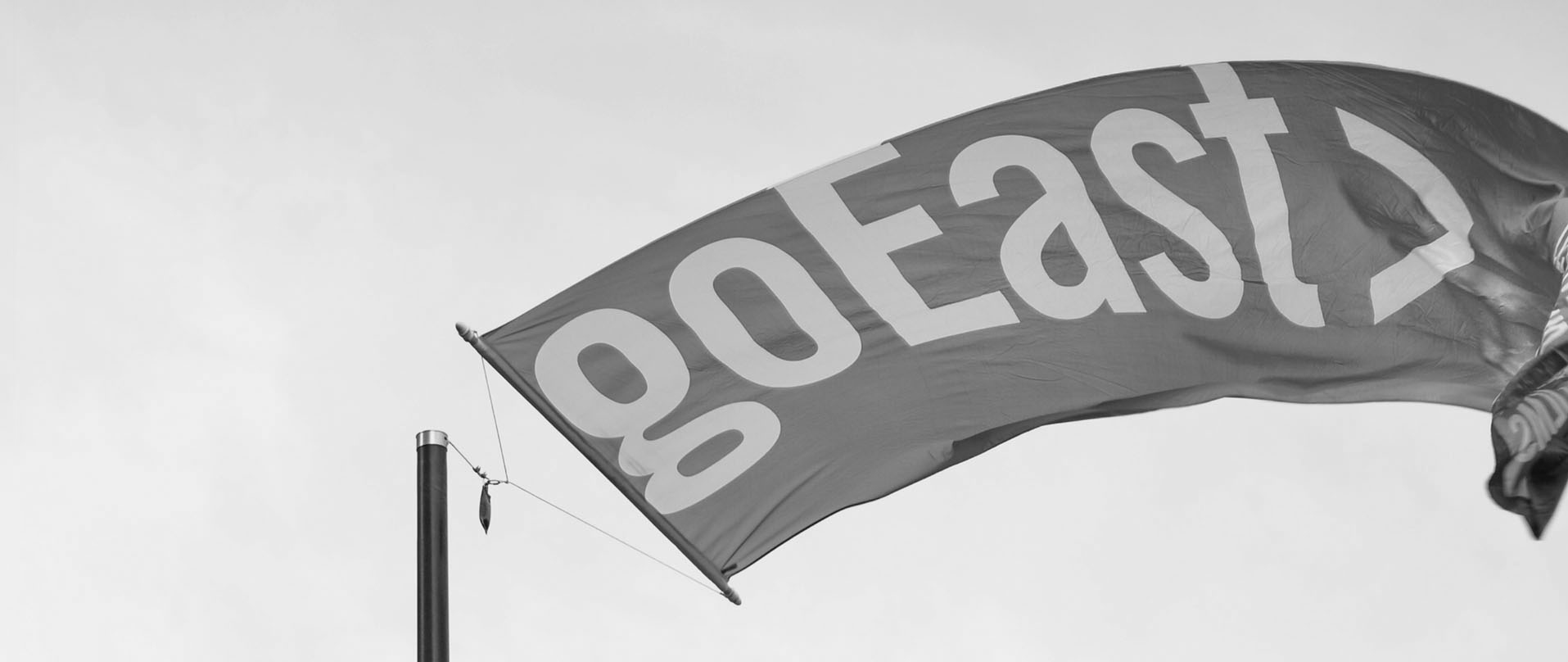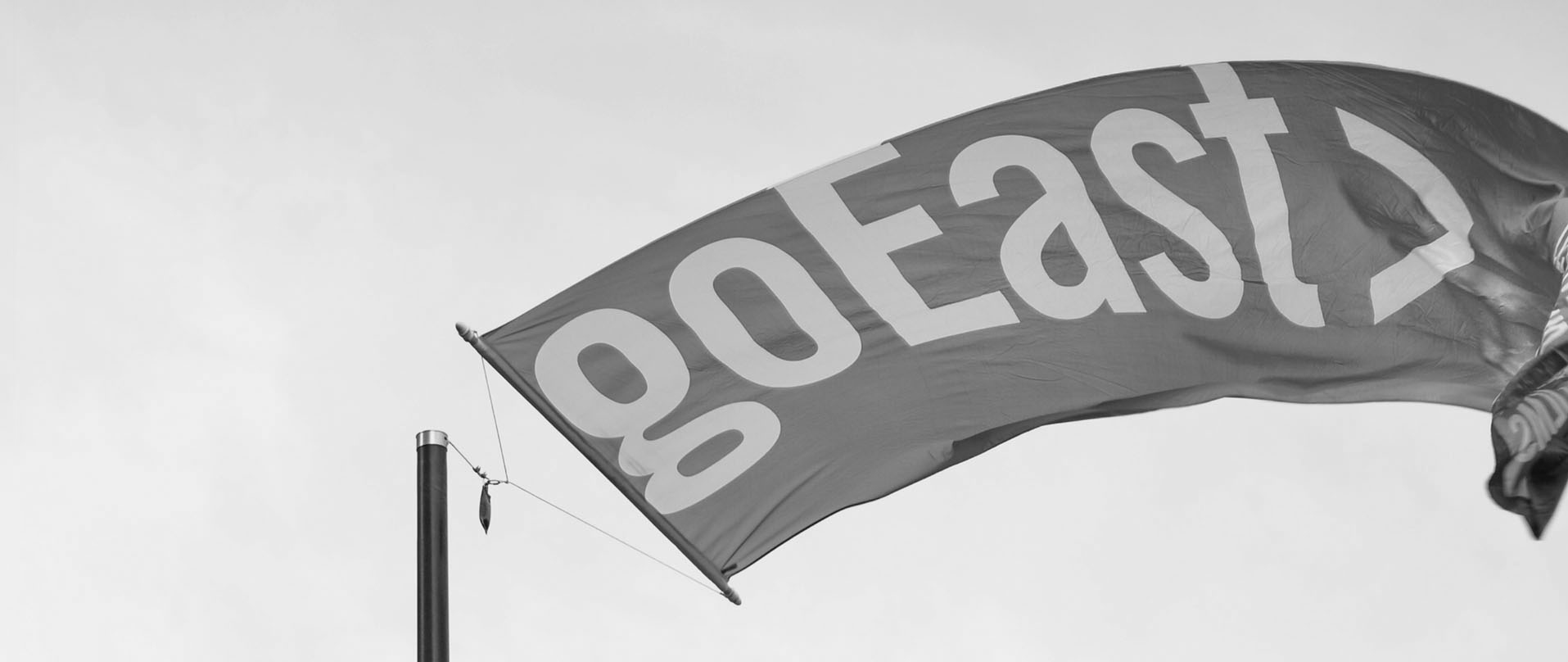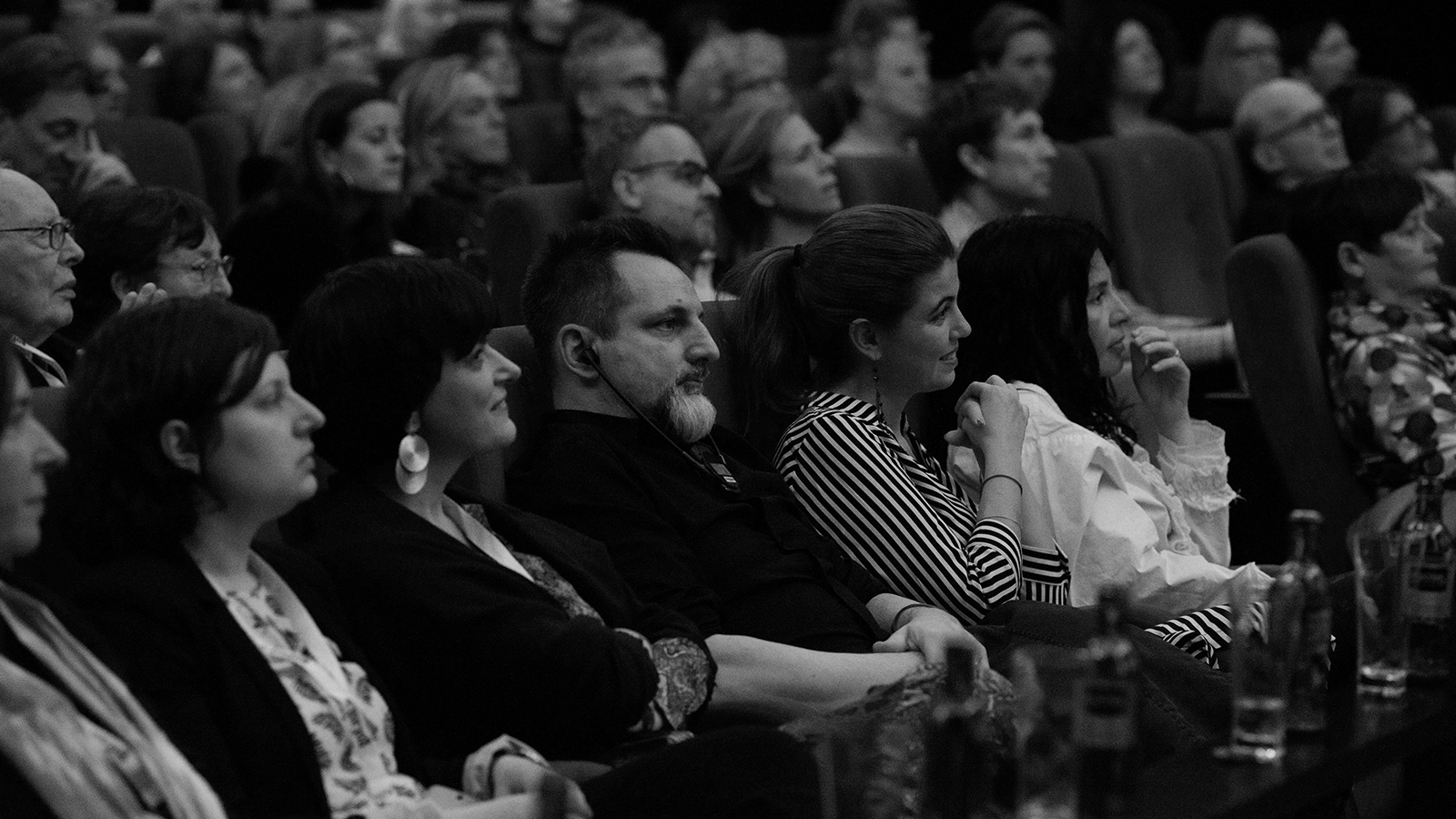 Starting in the 1980s, DFF – Deutsches Filminstitut und Filmmuseum (then known as Deutsches Institut für Filmkunde) conceived Eastern European cinema weeks on behalf of the federal government and organised film tours focussing on the region throughout Germany. The institution took up this tradition once again with goEast – Festival of Central and Eastern European Film, which celebrated its inaugural edition in April 2001 and, with its exciting film programming, has been offering important insight into the everyday lives of our Central and Eastern European neighbours every year since. In 2017, Heleen Gerritsen took over as festival director, thus becoming the fifth woman to head the festival, following in the footsteps of Claudia Dillmann, Christine Kopf, Nadja Rademacher and Gaby Babić. Gerritsen is also responsible for the artistic direction of the festival. Bernd Neumann has served as festival patron since 2016.
Over the course of seven festival days, goEast presents the full range of Central and Eastern European filmmaking in Wiesbaden and additional locations around the Rhine-Main region, in a programme featuring current trends, new positions and film-historical rarities, always within the context of discourse regarding socio-political concerns, cinema aesthetics and film theory. Among the most significant and frequently discussed subjects here are European identity/identities and the profound processes of transformation, both historical and contemporary, occurring in the festival's culturally and politically diverse focus region. Since the beginning of its second decade of existence, goEast has increasingly devoted itself to promoting transcultural perspectives and addressing global issues.
goEast understands itself as a forum for dialogue between East and West, but also as an agent for change and a cultural multiplicator. Panels and workshops, film series and film talks, collective projects with other cultural and societal institutions – the possibilities for creative interaction are many and varied. With virtual reality projects and 360° films as an integral part of the programme, as well as the hybrid format of the festival since 2020, which has advanced the integration of online programming, goEast is also playing a pioneering role when it comes to conceptual innovation. The festival is a platform for networking, exchange and further education. In particular up-and-coming filmmakers and children and adolescents from the region benefit from the creative and pedagogical focal points at goEast.
The programme of goEast is organised in diverse sections, each with their own respective profiles. Central here are, among others, the Competition, with its twin categories for fiction features and documentary films, the Symposium, the East-West Talent Lab, the Portrait/Homage (alternating annually), Bioscop and the goEast Specials. Each section is carefully curated, supported by festival correspondents and experts and – in the Competition – led by a selection committee. Genres and film categories are mixed in the sections. Beyond the cinema space itself, goEast offers a richly varied supporting programme, often assembled in co-operation with local and superregional partners, including Central and Eastern European cultural associations.
FESTIVAL HISTORY
After two-and-a-half years of preparation, goEast Film Festival enriched the Western European cinema scene for the first time in 2001 with its innovative approach. As the first festival director Claudia Dillmann wrote in the preface to the catalogue back then: "It is time to open ourselves up to thoughts, images, myths and stories from our neighbours to the East. To their culture. To their films." Svetlana Sikora, who served as the festival's artistic director from its inaugural edition until 2010, was involved in the conceptual development. The declared aim of facilitating genuine cultural dialogue and exchange – between directors and audience as well as between emerging talents from East and West – paved the way for today's festival format. From the very beginning, goEast was met with great interest and support by the State Capital Wiesbaden and the State of Hessen. In Wiesbaden, a city rich in deep connections to Eastern Europe, the festival found a true home – in one of Germany's most beautiful cinemas, Caligari FilmBühne. Hilmar Hoffmann assumed the role of festival patron. As early as its third festival year, goEast had already succeeded in establishing itself in the German and international cultural scene and had proven itself to be vital and sustainable, a fact attested to by a significant increase in submissions to the Competition, the first appearance of a jury representing the International Federation of Film Critics (FIPRESCI) as well as the official inclusion of the event in the festival calendar of the FIAPF.
Over the long-term history of the festival, the world has changed continually, marked by both Western and Eastern European political crises, wars and problematic EU debates. Still, through the decades, goEast has remained true to its concept. To express it in the words of Gaby Babić: "We see festival programming as a responsibility" – responsibility for a Europe with collective, humane, solidarity-based politics as part of an intensive engagement with identity, tradition, culture and future perspectives within a comprehensive programme featuring current films, scholarly supporting events, lectures and discussions – as well as friendly competition among peers: from 2019 to 2021 the RheinMain Short Film Award, the Award for Cultural Diversity and the International Film Critics' Awards. Since the festival's inception, goEast has honoured the best film with the "Golden Lily". The State Capital Wiesbaden presents the Award for Best Director, endowed with 7,500 euros in prize money.
In autumn of 2017, Heleen Gerritsen took over as director of the festival (with the overlapping responsibility for its artistic direction), becoming the fifth woman to head the festival, following in the footsteps of Claudia Dillmann, Christine Kopf, Nadja Rademacher and Gaby Babić.
Bernd Neumann has served as patron of the festival since 2016.
Technology is advancing in leaps and bounds, a situation that goEast Film Festival has embraced with enthusiasm. In 2018, virtual reality works were presented for the first time, which evolved into a tradition. In the following years, VR productions were presented frequently, ultimately opening the way for an expansive exploration of digital worlds in the wake of the Covid-19 pandemic. The 21st edition of the festival took place almost entirely online under difficult circumstances. However, this served once again to demonstrate how connected the world of film culture truly is.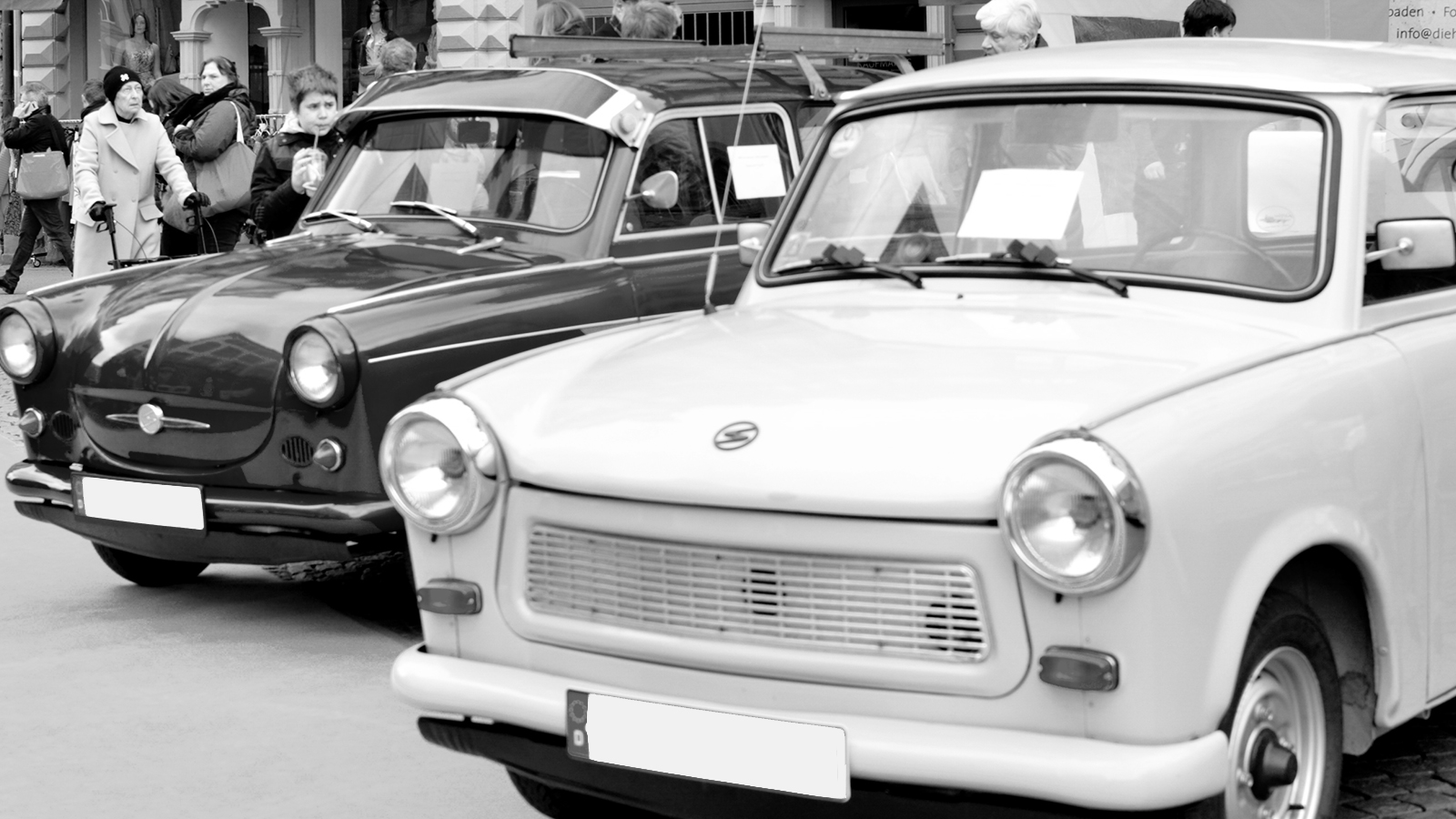 Awards
MAIN COMPETITION
Award for Best Film (10,000 euros)
Award of the City of Wiesbaden for Best Director (7,500 euros)
CEEOL Award for Best Documentary Film (4,000 euros)
International Film Critic's Awards (FIPRESCI-Award)
EAST-WEST TALENT LAB
Renovabis Research Grant for a film project with a focus on human rights (3,500 euros)
Pitch the Doc-Award (endowed with 500 euros)
Juries
International Jury – Main Competition
FIPRESCI Jury – Main Competition
Jury of Merck Award for Innovation in XR
Jury of the East-West Talent Lab
HEAD OF FESTIVAL / ARTISTIC DIRECTOR
Heleen Gerritsen
Phone: +49.611.236 843-11
Mail
HEAD OF ORGANIZATION & MARKETING
Ansley Falk
Phone: +49.611.236 843-12
Mail
PROGRAMME COORDINATION
Sophie Brakemeier
Phone: +49.611.236 843-13
Mail
FESTIVAL PRODUCER
Simon Zerfaß
Phone: +49.611.236 843-10
Mail
EDITORIAL DEPARTMENT
Anita Buss
Phone: +49.611.236 843-18
Mail
PRESS & COMMUNICATION
Marta Moneva-Enchev
Phone: +49.611.236 843-16
Mail
VOLUNTEERS
The 23rd edition of the goEast – Festival of Central and Eastern European Film will take place in the week of April 26th – May 2nd. 
Therefore, we are looking for (film-)enthusiastic volunteers, who would like to support us in different tasks before/during/after the festival week. In total, you should be available for around 20 hours during the festival week. As a volunteer, you will have the opportunity to work in different areas and get an insight behind the scenes of an international film festival. 
Find more information about the different areas and your benefits as a volunteer below.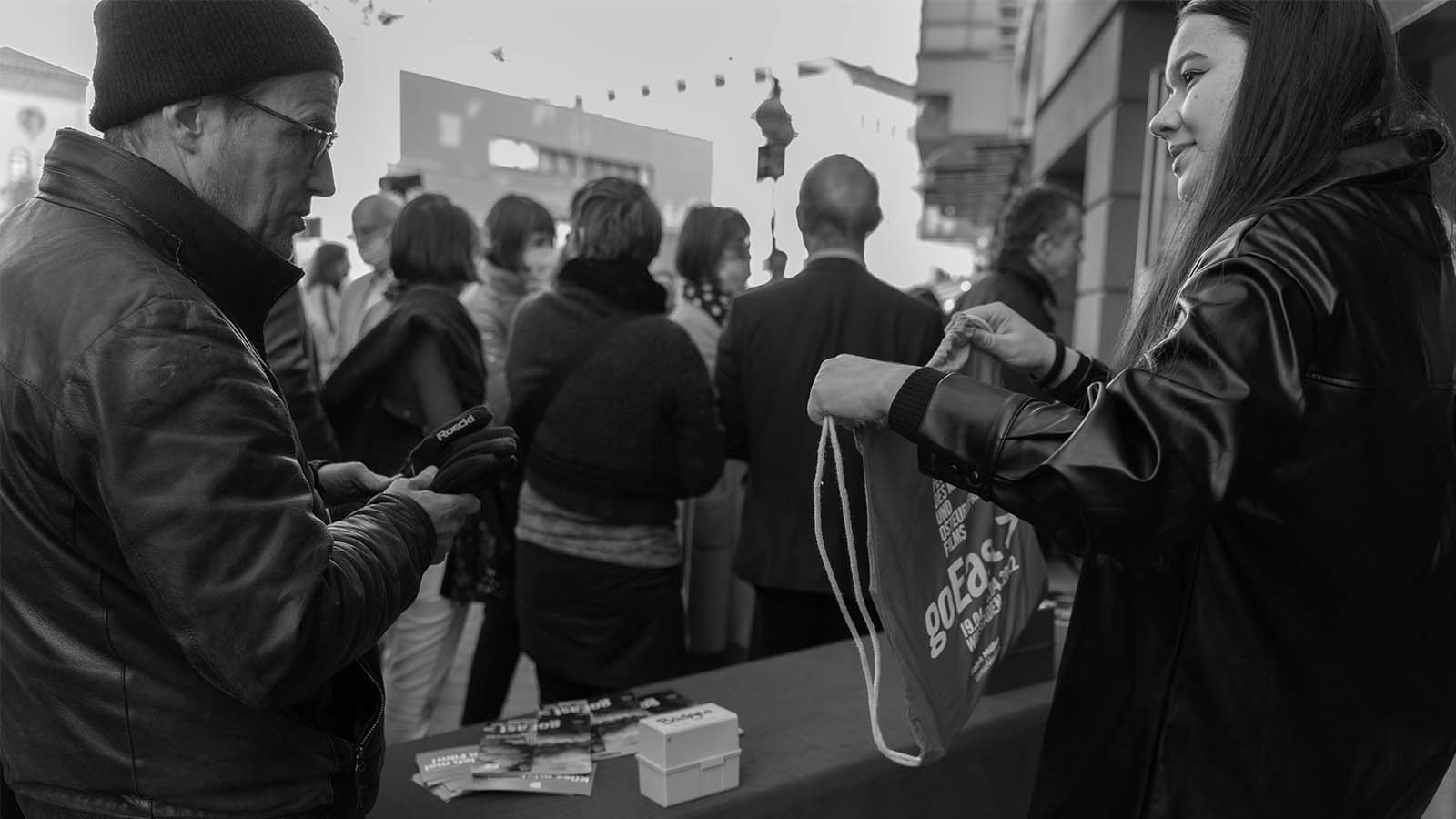 SUPPORT FOR THE VR-EXHIBITION (April 26th – May 2nd) 
FOOD SERVICE (April 27th – May 2nd) 
You can find more details about the different tasks (job descriptions, working hours, shifts) here.
BARISTA AT OSTKIOSK (April 26th – May 2nd)
Together with our sponsor Kaufmanns we are looking for someone who is interested in learning the profession of a barista. You will get a briefing from Kaufmanns before the start of the festival on how to use the portafilter machine and prepare different coffee variations. For this position you should be available for the whole festival period. Your working hours will be from approx. 10 am – 4 pm.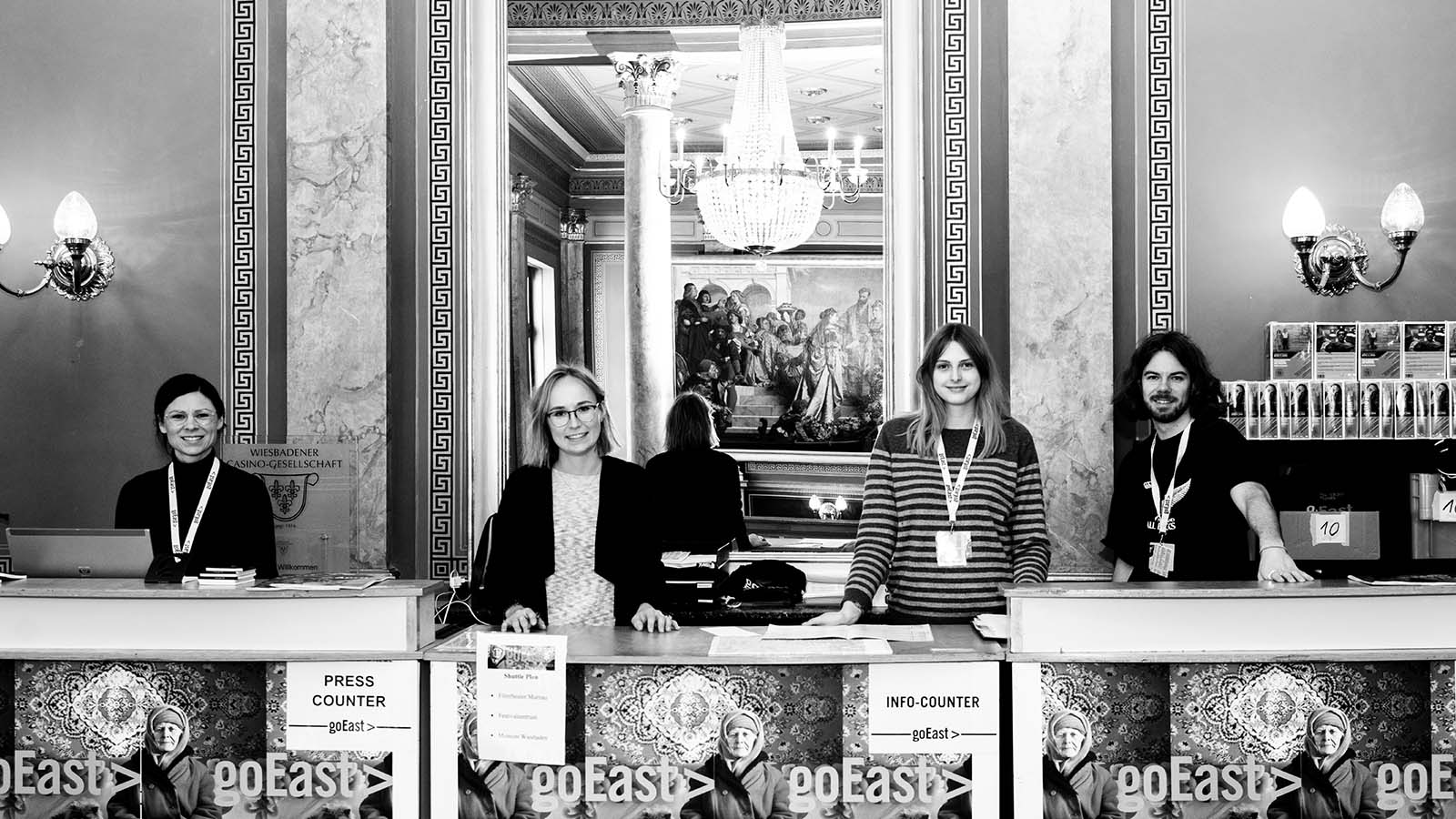 DRIVERS (April 25th – May 3rd) 
BARTENDER AT THE FESTIVAL BAR (April 26th) 
VENDOR AT THE "OSTKIOSK" (April 26th – May 2nd) 
GUEST MANAGEMENT (April 25th – May 3rd) 
HELP FOR SETUP AND DISMANTLING OUR VENUES (April 25th/26th and May 2nd/3rd) 
CINEMA ADMISSION (April 25th – May 2nd) 
In return we offer you:
Experience the fantastic festival atmosphere
Work with a great and friendly festival team
Get your own festival pass, which allows entrance to all films, film talks, lectures, parties and other supporting programs
Receive your own bag and shirt
International filmmakers and artists up close and personal
Get vouchers for food and drinks
This is how you become part of goEast: 
Sign up via Eventival and fill out our questionnaire (only possible in German language) or contact our team via e-mail (goeast-orga@dff.film) by April 8th at the latest. You can also indicate in which area you would like to work and your availability during the festival.
There are several ways to support goEast – Festival of Central and Eastern European Film. Here, we would like to introduce you to some of these ways. If you are interested, we kindly ask you to get in touch the festival team in order to assure the best solution for your individual ideas and possibilities.
FOR INDIVIDUALS
Are you passionate about Central and Eastern European cinema or their cultures? We look forward to your commitment, for example as a volunteer in the run-up to the festival or during the festival week in Wiesbaden and Frankfurt. As a volunteer you can gain insight into numerous areas of everyday festival life as well as actively support our team. Areas of support include the distribution of advertising materials, admission control in the festival cinemas or accompanying our film guests.
Would you like to support the artistic work of the festival financially? Then we look forward to your transfer to the following account:
Account holder: DFF – Deutsches Filminstitut & Filmmuseum e.V.
IBAN: DE23 5109 0000 0000 8917 11
BIC/SWIFT: WIBADE5WXXX
Wiesbaden Volksbank
Purpose: SURNAME, FIRST NAME "Donation goEast"
Please email us your name and address in order for us to send you a donation receipt.
Thank you for your donation!
FOR COMPANIES
Would you like to place your company in the vicinity of the festival and support cultural projects? Then join our goEast sponsors! The events in Wiesbaden, Frankfurt and several more in the Rhine-Main area attract more than 12,000 visitors each year. From in-kind sponsorship, a film patronage that enables us to invite film guests to Wiesbaden, to premium sponsorship, we are happy to offer you a package that meets your needs. Please contact our festival team.
The festival can also accept and certify company donations as part of the DFF, please contact us!